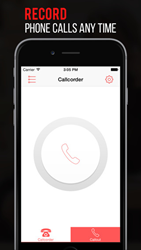 Cupertino, CA (PRWEB) December 11, 2014
Callcorder Pro, the top-most rated call recording application from Perception System for iOS and Windows Phone users, makes recording of regular incoming and outgoing calls a lot easier while on the go. The app has now been updated to offer cheap International calls to mobiles & landlines.
Making phone conversations more useful, a new and major update to Callcorder Pro enables users to trim any unwanted parts of their recorded conversations, make international calls at low rates, provides free calling credits and a lot more.
With its minimalist and intuitive approach, users can easily record any telephone conversation, such as a call for an interview, meeting or general talk with their friends and send it through email to anyone. Being a highly secured application, it stores recordings on the server in encrypted form and calls are deleted forever once downloaded from the server.
Moreover, Callcorder Pro, which has received favourable reviews since launch, is currently obtainable for $ 4.99 till December 31,2014.
Recording calls is simple for everyone, users just need to follow two simple steps to record the conversion and it will record the full conversation without any hassle.
To record an incoming call, users simply open the application and tap the Callcorder button. The application will dial the recording line and tap merge calls button once enabled. After that, the recording will start and users can record as much as they want and download it as per their convenience.
To record an outgoing call, users open the app and tap the Callcorder button. The application will dial recording line and tap add call button to dial a person you want to talk and then press merge calls. They can call the person from their address book or dial pad.
Highlights:


Function to trim any unwanted sections from the recorded conversation
Support for all major countries including US, UK, UAE, Argentina, Australia, Austria, Bahrain, Belgium, Brazil, Bulgaria, Canada,